New Wages! Highest wages ever for both current and new employees!
Apply today
and learn how Eagle Crest Communities is ready to invest in you!
A career with us is a challenging yet rewarding experience that will make a positive impact on the lives of our residents. Eagle Crest Communities is the largest not-for-profit senior care provider in Western Wisconsin with ten communities in the La Crosse, Holmen, and Onalaska, WI area. We find success in providing superior service with great attention to ensuring the highest levels of satisfaction to every resident. Great people, great care!
Work alongside people who make our organization what it is today – inspiring, innovative, and inviting. We're honored to provide you stability with the career change you've been looking for, as well as one-on-one experience while you pursue educational goals. Within our communities we offer opportunities in nursing, culinary, environmental services, and more – let us find the right fit for you!
Why Eagle Crest Communities
Our Investment In You
Competitive wages, with annual wage reviews, ensure you feel rewarded for the work you are doing.
Our Tuition Investment Program allows you to reach your education goals, while alleviating some of that financial burden.
We sponsor an Employee Assistance Program (EAP) through Gundersen Health Systems that offers free counseling and resources.
Work-Life Balance
Even though we love having you here, we want you to enjoy time outside of work with friends, family, pets or all of the above!
Our flexible schedules ensure you can make time for those important to you by enjoying every other weekend and every other holiday off!
Referral Program
Get rewarded for telling friends and family about nursing opportunities in our organization!
This program gives you and your referral EACH $500
Advancement Opportunities
Opportunities to advance are available in each department and community.
Many of our nursing students are encouraged to apply for Nurse Tech positions to gain clinical experience on the job or LPN and RN positions when they've successfully passed their exams.
Available at 50+ hours/pay period positions
Health Insurance, Health Reimbursement Account (HRA), Dental Insurance, Life and AD&D Insurance, Long Term Disability, Short Term Disability.
Available at 20+ hours/pay period positions
Vision Insurance, Flexible Spending Accounts (FSA), Short Term Disability, Accident Insurance, Cancer and Critical Illness Insurance, Hospital & Intensive Care Insurance, Pet Insurance.
Available at 18+ hours/pay period positions
Tuition Investment Program.
Available To All
Employee Assistance Program, 401(k).
Other Perks
Cell Phone Discounts: Verizon and US Cellular
Our mission
Rooted in Christian Faith | Caring for Each Other | Serving the Community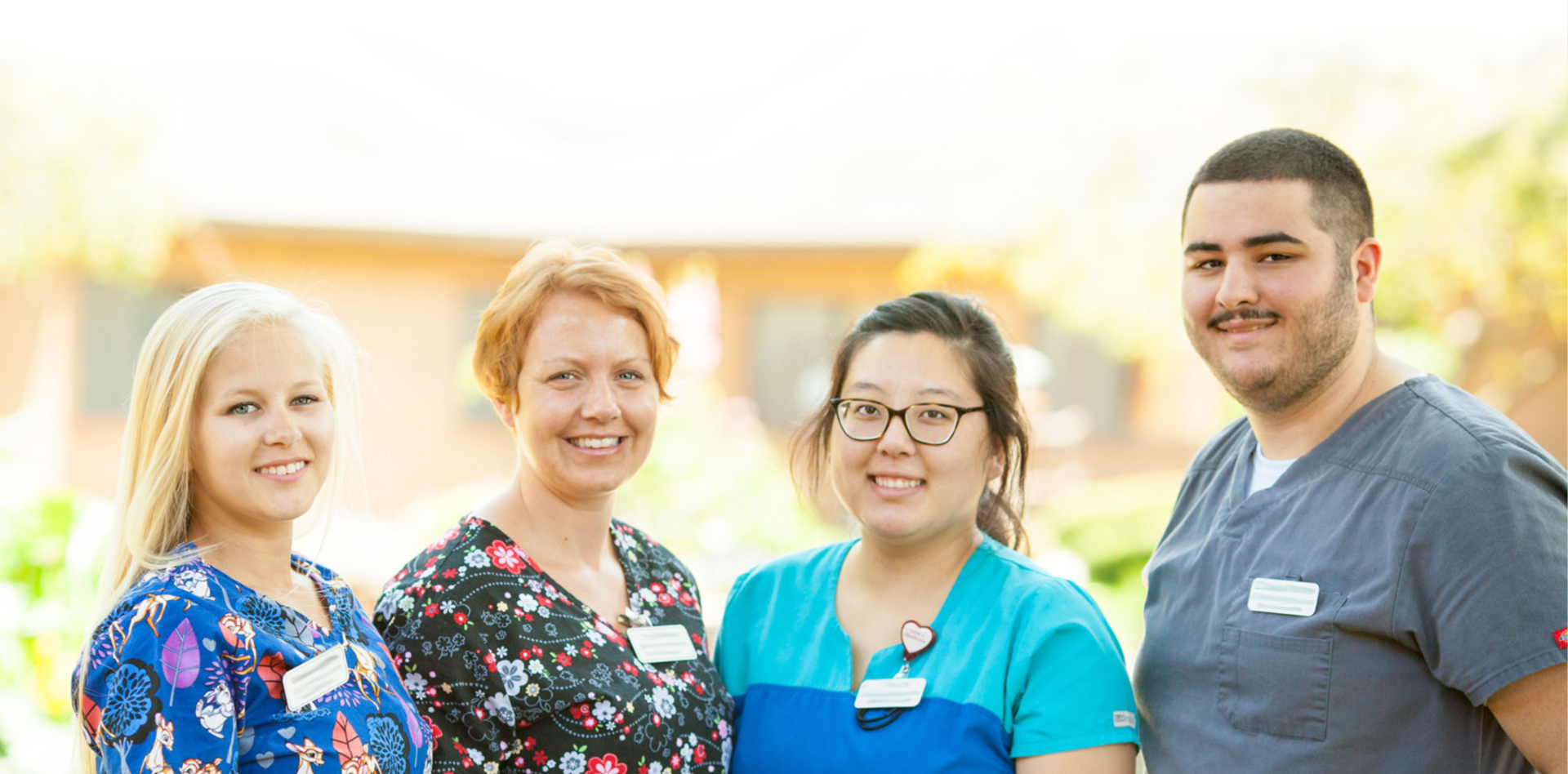 Testimonials
"Since beginning employment at Riverside, I have been presented with many opportunities to grow both personally and professionally. I started as a CNA and later was trained as a nurse tech. I have formed many valuable relationships with residents, family members, and co-workers. So many of the things I've learned at work have helped me succeed in nursing school and vice versa. The tuition investment program (TIP) has provided me with financial assistance towards my education. This is a truly great opportunity that is offered here at Riverside, and I'm very grateful to have been a part of it. I'd highly recommend for anyone who is eligible to apply for it."
Micaela
"I work at Eagle Crest South and I am currently in the nursing program at Western Technical College. I chose to work for Bethany Lutheran Homes because I have always thought of them as a great company in the La Crosse area. My grandma had Alzheimer's and was a resident at one of the Hearten Houses and at Bethany Riverside. While she was there I noticed the great care that she received and I knew that I wanted to be a part of it someday. I have enjoyed caring for and getting to know the wonderful residents in memory care at ECS for the past two years."
"I have encouraged all of my coworkers who are continuing their education in the healthcare field to apply for the tuition investment program because it has helped me greatly in my journey to become a nurse. Because of the tuition investment program's financial assistance, I will be graduating debt free!"
Morgan
"I am fortunate enough to work for a wonderful company that provides their employees with financial assistance for going to school. The TIP program has helped me pay for books and tuition for school. Bethany Lutheran Homes goes above and beyond to help their employees balance work and school. I love my job as a CNA at Eagle Crest South and I am looking forward to my career as a RN, BSN. Thank you, TIP program!"
Kendra
Equal Opportunity Employer
Bethany Lutheran Homes, Inc. is an Equal Opportunity Employer and prohibits discrimination and harassment of any kind. We are committed to the principle of equal employment opportunity for all applicants and employees and to providing a work environment free of discrimination and harassment. All employment decisions are based on business needs, job requirements, and individual qualifications, without regard to race, disability, color, creed, religion, ancestry, national origin, sex, age, citizenship, sexual orientation, veteran status, or other characteristics protected by State or Federal law. This policy applies to all terms, conditions, and privileges of employment.
Bethany Lutheran Homes, Inc. strives to reasonably accommodate its applicants and employees in accordance with State and Federal laws. If you need assistance to navigate our website, to apply for a position, or if you are selected for further consideration and need an accommodation for any part of the interview process, please email [email protected] for assistance.
Know Your Rights: Workplace Discrimination is Illegal